I've heard more than once before that babies naturally know how to swim, because of the environment that they are in prior to birth. Instinctively, I guess I can kind of see an infant kicking his/her leg if you put them in a body of water, much like Ethan did when we gave him his first bath. But somehow, I have a hard time believing that they would actually "know" how to swim... or I'm probably just underestimating the little ones. After all, a baby duck, after breaking out of its shell and gathering up enough energy, will instinctively follow the mom.

Anyway, somebody then told me that there is only a small window of opportunity after birth, when an infant can be re-introduced to a larger body of water and be able to "remember" how to swim. Apparently, Ethan's crossed that threshold so we signed him up (and both mommy and daddy) for some swimming "lessons" with no hesitation and hope he wouldn't drown!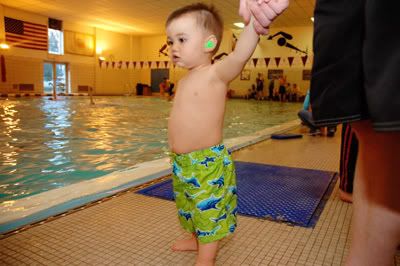 First time Ethan seeing something larger than the tub (with the exception of the ocean, which he saw for the first -and only- time at 9 weeks old in California).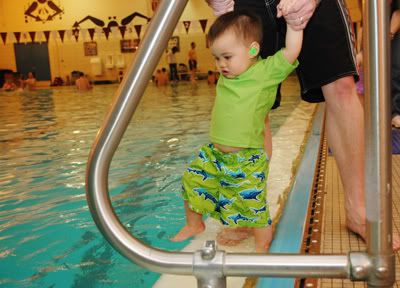 This is Ethan testing the temperature of the water, which I hope can be fixed to somewhat warmer during the next couple of weeks after the construction/fixes gets done.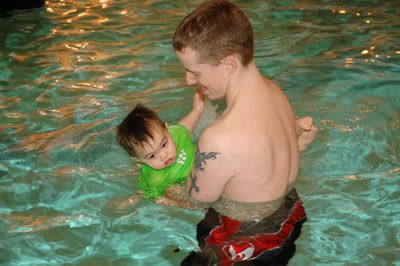 Learning how to float without any kind of floatation device.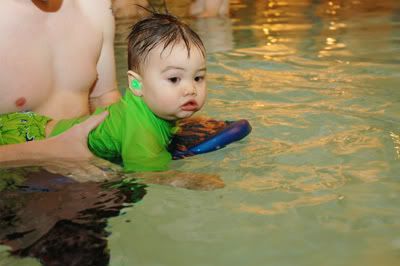 Our future surfer boy!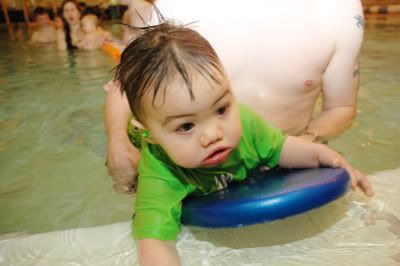 This is Ethan trying to make a break. Who could blame him? That water was too cold!