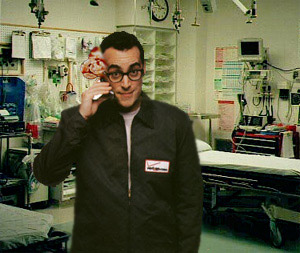 How do you know when you are living in the middle of butt-fuck-nowhere?
When this annoying verizon guy won't even come to where you are....
Can you hear me now?
Ask anyone under thirty the first thing they think of after hearing that phrase and you'll likely hear back Verizon Wireless. For good or evil, the ads portraying this lonely Verizon Wireless employee asking the person on the other line if the connection is good, are everywhere. He probably can't even program his own contact list, but he could be at the most remote place, and sure enough, the other person on the other line never fail to hear him just fine. James Earl Jones, proves Verizon's campaign synergy ingenius, by topping the cherry at the end of the commercial. He sounds so damn convincing, doesn't he? He sure fooled me.
So Verizon prides itself to be the most reliable network in the nation. It works everywhere else, BUT West Virginia, apparently. Go figure. Why didn't we check the coverage map before terminating our contract with Sprint, you ask? I feel sorry for the customer service lady who had to listen to me bitch today for 45 minutes about how I just dropped my contract from another provider and purchased a new verizon phone for the exact same features that I am now being told I CANNOT USE due to my
geographic location... they can't even guarantee me a signal. How sad is that?
Video and Picture messaging feature? Useless. Web applications? Useless. Bluetooth capability? Useless. Basically, it's paper weight sitting in my purse with potential of acting like a phone ocassionally, depending on the "extended network's" mood that day. The decision of switching to Verizon seemed everything BUT stupid since my family and Mike's family are both on Verizon AND it was logically cheaper, but now
I'm sitting here wishing I had found this out before trekking to the Sprint store yesterday to cancel our contract which we've had since we lived in California. I didn't have a fancy phone... but at least I had signal.
Not "goooooood" Verizon guy.